{"advantages":[{"id":"1","name":"Своевременная оплата труда"},{"id":"2","name":"Удобное расположение работы"},{"id":"3","name":"Удаленная работа"},{"id":"4","name":"Наличие кухни, места для обеда"},{"id":"5","name":"Медицинское страхование"},{"id":"6","name":"Оплата больничного"},{"id":"7","name":"Гибкий рабочий график"},{"id":"8","name":"Компенсация питания"},{"id":"9","name":"Оплата транспортных расходов"},{"id":"10","name":"Корпоративный транспорт"},{"id":"11","name":"Профессиональное обучение"},{"id":"12","name":"Место для парковки"},{"id":"13","name":"Оплата мобильной связи"},{"id":"14","name":"Система наставничества"},{"id":"15","name":"Корпоративные мероприятия"}],"datetime":"","trl":{"RU":{"employerReviews.reviewsCount.noReviews":"Нет отзывов","employerReviews.forceReloadInfo.text":"У вашей компании появились отзывы сотрудников — теперь соискатели видят ещё больше плюсов работы с вами","employerReviews.cantReview.loginAsApplicant":"Войдите как соискатель, чтобы оставить отзыв","employerReviews.cantReview.alreadyReviewed":"Можно оставить только один отзыв. После модерации он появится на сайте Dreamjob.ru и будет доступен другим соискателям.","employerReviews.cantReview.verifyPhone":"Чтобы оставить отзыв о работодателе подтвердите ваш аккаунт с помощью номера телефона","employerReviews.cantReview.alreadyReviewedInterview":"Вы уже оставили отзыв. После модерации он появится на сайте Dreamjob.ru и будет доступен другим соискателям.","employerReviews.reviewsCount.one":"отзыв","employerReviews.reviewsCount.some":"отзыва","employerReviews.reviewsCount.many":"отзывов","employerReviews.wizard.confirmClose":"Закрыть окно?\nВнесенные изменения не сохранятся.","employerReviews.complainWizard.reason.title":"Причина жалобы","employerReviews.complainWizard.reason.titleXS":"Укажите причину, по которой вы хотите удалить отзыв","employerReviews.complainWizard.text.placeholder":"Опишите ситуацию","employerReviews.complainWizard.callPolice.title":"Обратитесь в контролирующие органы","employerReviews.complainWizard.callPolice.description":"При нарушении трудовых прав вы можете обратиться в контролирующие или надзорные органы. Мы подготовили для вас статью на эту тему","employerReviews.complainWizard.callPolice.action":"Читать статью","employerReviews.complainWizard.finish.title":"Спасибо за помощь","employerReviews.complainWizard.finish.description":"Теперь мы знаем, что с компанией что-то не так, и уже работаем над этим","employerReviews.complainWizard.finish.description.vacancy":"Теперь мы знаем, что с вакансией что-то не так, и уже работаем над этим","employerReviews.complainWizard.finish.action":"Закрыть","employerReviews.wizard.next":"Продолжить","employerReviews.wizard.prev":"Назад","employerReviews.wizard.cancel":"Отменить","employerReviews.wizard.submit":"Отправить отзыв","employerReviews.wizard.about.title":"Анонимный отзыв","employerReviews.interviewWizard.components.title":"Что включал в себя процесс отбора в компанию?","employerReviews.interviewWizard.questions.title":"Ответьте на вопросы","employerReviews.interviewWizard.nonMatchedJobConditions.title":"Что не соответствовало описанию вакансии?","employerReviews.wizard.rate.title":"Оцените работодателя","employerReviews.interviewWizard.review.title":"Что было на собеседовании?","employerReviews.interviewWizard.finish.title":"Спасибо за отзыв!","employerReviews.interviewWizard.finish.description":"Информацию о том, что было на собеседовании, увидит только работодатель","employerReviews.wizard.ok":"Понятно","employerReviews.wizard.about.city":"Город","employerReviews.wizard.about.city.error":"Укажите город проживания","rb.edit.area":"Город проживания","treeselector.save":"Выбрать","treeselector.cancel":"Отменить","treeselector.quicksearch":"Быстрый поиск","treeselector.notFound":"Совпадений не найдено","employerReviews.wizard.about.company":"Компания","employerReviews.wizard.about.company.error":"Укажите название компании","employerReviews.wizard.about.company.error.cantReview":"Вы уже оставили отзыв на эту компанию","employerReviews.wizard.about.position":"Должность","employerReviews.wizard.about.position.error":"Укажите должность","employerReviews.interviewWizard.about.gotOffer":"Предложили ли вам работу после собеседования?","employerReviews.interviewWizard.about.gotOffer.error":"Выберите ответ","employerReviews.interviewWizard.about.gotOffer.yes":"Да, есть приглашение","employerReviews.interviewWizard.about.gotOffer.no":"Нет, не предлагали","employerReviews.interviewWizard.general.error":"Выберите ответ","employerReviews.interviewWizard.questions.complexity":"Как вы оцениваете уровень сложности собеседования?","employerReviews.interviewWizard.questions.stagesCount":"Сколько этапов собеседования на должность?","employerReviews.interviewWizard.questions.duration":"Сколько недель длился процесс отбора c момента отклика на вакансию?","employerReviews.interviewWizard.questions.isMatch":"Условия работы соответствуют описанию вакансии?","employerReviews.interviewWizard.questions.isMatch.yes":"Соответствуют","employerReviews.interviewWizard.questions.isMatch.no":"Не соответствуют","employerReviews.interviewWizard.questions.locations":"Где проходило собеседование?","employerReviews.interviewWizard.questions.locations.hint":"Можно выбрать несколько вариантов","employerReviews.wizard.rate.error":"Оцените работодателя по критериям","employerReviews.interviewWizard.rate.feedbackSpeed":"Скорость обратной связи от работодателя","employerReviews.interviewWizard.rate.hrCompetition":"Профессионализм HR / представителя компании","employerReviews.interviewWizard.rate.perceiving":"Атмосфера на собеседовании","employerReviews.interviewWizard.review.questions":"О чём вас спрашивали?","employerReviews.interviewWizard.review.impression":"Поделитесь впечатлением от процесса","employerReviews.interviewWizard.review.questions.hint":"Оцените вопросы, которые вам задавали на интервью.что бы вы посоветовали улучшить?","employerReviews.interviewWizard.review.impression.hint":"Понравилось ли вам в целом, как проходили этапы отбора в компанию?","employerReviews.wizard.review.title":"Напишите отзыв","employerReviews.wizard.advantages.title":"Какие льготы и удобства есть у работодателя?","employerReviews.wizard.recommend.title":"Вы бы порекомендовали работодателя своему другу?","employerReviews.wizard.finish.title":"Спасибо за отзыв!","employerReviews.wizard.finish.description":"После модерации он появится на Dreamjob.ru и будет доступен другим соискателям","employerReviews.wizard.finish.action":"Хорошо","employerReviews.wizard.about.duration":"Как долго работали?","employerReviews.wizard.about.duration.error":"Укажите как долго работали","employerReviews.wizard.about.duration.lessThanYear":"Меньше года","employerReviews.wizard.about.duration.oneToTwoYears":"1-2 года","employerReviews.wizard.about.duration.threeToFiveYears":"3-5 лет","employerReviews.wizard.about.duration.fiveToTenYears":"5-10 лет","employerReviews.wizard.about.duration.moreThanTenYears":"Больше 10 лет","employerReviews.wizard.about.target":"Я оцениваю","employerReviews.wizard.about.target.error":"Выберите кого вы оцениваете","employerReviews.wizard.about.target.currentEmployer":"Текущее место работы","employerReviews.wizard.about.target.previousEmployer":"Прошлое место работы","employerReviews.wizard.advantages.error":"Выберите льготы и удобства","employerReviews.wizard.rate.compensation.placeholder":"Доход после вычета налога (руб./месяц)","employerReviews.wizard.rate.workPlace.title":"Условия труда","employerReviews.wizard.rate.workPlace.description":"Оцените удобство и условия рабочего места, наличие необходимого оборудования, месторасположение","employerReviews.wizard.rate.team.title":"Коллектив","employerReviews.wizard.rate.team.description":"Оцените атмосферу в коллективе: сплоченность, поддержка, общение вне работы","employerReviews.wizard.rate.managment.title":"Руководство","employerReviews.wizard.rate.managment.description":"Оцените отношение руководства к сотрудникам, уровень компетентности, возможности решения рабочих проблем","employerReviews.wizard.rate.career.title":"Возможности роста","employerReviews.wizard.rate.career.description":"Оцените перспективы для роста и развития, возможности перехода в другой отдел и обучения в компании","employerReviews.wizard.rate.restRecovery.title":"Условия для отдыха","employerReviews.wizard.rate.restRecovery.description":"Оцените наличие и уровень соц.пакета и ДМС, оплату питания, продолжительность рабочего дня и перерывов","employerReviews.wizard.rate.salary.title":"Уровень дохода","employerReviews.wizard.rate.salary.description":"Оцените размер оплаты труда и премии","employerReviews.wizard.recommend.like":"Да","employerReviews.wizard.recommend.dislike":"Нет","employerReviews.wizard.recommend.error":"Оставьте свою рекомендацию","employerReviews.wizard.review.cons":"Что можно было бы улучшить","employerReviews.wizard.review.cons.placeholder":"Например: коммуникация между сотрудниками","employerReviews.wizard.review.cons.error":"Поле должно содержать не менее 20 символов. Пожалуйста, дополните ваш отзыв","employerReviews.wizard.review.points":"— Избегайте категоричных и предвзятых оценок: у каждой компании есть как плюсы, так и зоны для улучшений.\n— Не используйте нецензурную лексику.\n— Не переходите на личности и не разглашайте персональные данные.","employerReviews.wizard.review.pros":"Что вам нравится в работодателе","employerReviews.wizard.review.pros.placeholder":"Например: свобода в выборе рабочего графика, близость к дому и т. д.","employerReviews.wizard.review.pros.error":"Поле должно содержать не менее 20 символов. Пожалуйста, дополните ваш отзыв","employerReviews.deleteReviewModal.title":"Укажите причину, по которой вы хотите удалить отзыв","employerReviews.deleteReviewModal.reason.changedOpinion":"Поменялось мнение о работодателе","employerReviews.deleteReviewModal.reason.employerRequested":"Работодатель попросил удалить отзыв","employerReviews.deleteReviewModal.reason.noLongerRelevant":"Отзыв потерял актуальность","employerReviews.deleteReviewModal.reason.byMistake":"Отзыв был оставлен по ошибке","employerReviews.deleteReviewModal.reason.other":"Другое","employerReviews.deleteReviewModal.other.title":"Причина удаления","employerReviews.deleteReviewModal.other.placeholder":"Например: написал отзыв на эмоциях…","employerReviews.deleteReviewModal.actions.delete":"Удалить","employerReviews.deleteReviewModal.actions.cancel":"Отменить","employerReviews.editReviewModal.title":"Редактирование отзыва","employerReviews.editReviewModal.actions.delete":"Удалить","employerReviews.editReviewModal.actions.save":"Опубликовать","employerReviews.editReviewModal.actions.cancel":"Отменить","employerReviews.abstract.submitError":"Произошла ошибка. Попробуйте повторить операцию позднее","employerReviews.editReviewModal.description.title":"Пожалуйста, исправьте замечания и опубликуйте отзыв повторно","employerReviews.editReviewModal.hint":"Напишите нам, если вы считаете, что ваш отзыв не нарушает ни одно из перечисленных правил или хотите задать вопрос касательно процесса модерации","employerReviews.editReviewModal.hint.show":"Подробнее","employerReviews.editReviewModal.hint.close":"Закрыть","page.4xx.pageTitle":"Ошибка","page.403.pageTitle":"Ошибка 403","page.404.pageTitle":"Ошибка 404","page.4xx.description":"Что-то пошло не так.","page.403.description":"У вас нет доступа к этой странице.","page.404.description":"Что-то пошло не так. Возможно, вы ошиблись, набирая адрес в строке браузера — так бывает. Если вы уверены, что адрес набран верно, то страница, скорее всего, была удалена и ее больше нет.","page.4xx.solution":"Смело обращайтесь за помощью в {0}, сообщив нам код ошибки: {1}, или перейдите на {2}.","page.403.solution":"Но не отчаивайтесь! Попробуйте перейти на {0} или обратитесь за помощью в {1}.","page.404.solution":"Но не отчаивайтесь! Смело обращайтесь за помощью в {0} или перейдите на {1}.","page.4xx.support":"сообщество поддержки","page.4xx.main":"главную страницу","page.403.login":"страницу авторизации"}},"langs":["RU"],"features":{"sentry_logging":true,"sentry_request_queue_limit":null,"sentry_js_config":null},"experiments":{"enabled":{},"checked":[]},"fetchingData":false,"pageError":null,"request":{"protocol":"https","host":"172.18.16.15:2680","url":"/employer_reviews/proxy_components/small_widget?employerId=5609139","id":"166465534966865587f154f17e0fb50d","xsrfToken":"1de7669a35596983f198be3343ec3450","pageName":"SmallWidget"},"config":{"staticHost":"https://employer-reviews-front.hh.ru/static","hhcdnHost":"https://hhcdn.ru","build":"1.0.83","sentryDSN":"https://d9af9242efed432e987ffae32d179ef4@sentry.hh.ru/616"},"analyticsParams":{"hhtmSource":"SmallWidget","hhtmFrom":"","hhtmSourceLabel":"","hhtmFromLabel":""},"userType":"anonymous","isWebView":false,"isProxiedComponent":true,"employerReviews":null,"employerId":"5609139","employerNameMap":{"5609139":"Swoo"},"employerLogoUrl":"/employer-logo/3938508.png","vacancyId":null,"proxyComponentId":"employerReviewsSmall","xhhPageName":"employer","areaTree":[],"siteId":"7","backurl":"/","showForceReloadWarning":false,"reviewPossibility":{"employer":{"canReview":true},"interview":{"canReview":false}},"reviewsSettings":false,"hasVerifiedPhone":false,"reviewsVisibilitySettings":false,"canEditVisibilitySettings":false,"employersToReview":[],"interviewsToReview":[],"disabledReduxSpaMiddlware":true,"myReviews":{"paging":{"found":0,"hasNextPage":false,"page":0,"pages":0,"perPage":20},"isLoading":false,"reviews":[]},"initialOpenedReviewId":null,"interviewDictionaries":{"components":[{"id":"1","name":"Рекомендации с прошлой работы"},{"id":"2","name":"Обсуждение опыта работы"},{"id":"3","name":"Оценка профессиональных навыков"},{"id":"4","name":"Оценка навыков презентации"},{"id":"5","name":"Психологический тест"},{"id":"6","name":"Уровень владения иностранным языком"},{"id":"7","name":"Проверка службой безопасности"}],"complexities":[{"id":"1","name":"Легко"},{"id":"2","name":"Нормально"},{"id":"3","name":"Сложно"}],"stagesCounts":[{"id":"ONE","name":"Один"},{"id":"TWO","name":"Два"},{"id":"THREE","name":"Три"},{"id":"FOUR","name":"Четыре"},{"id":"FIVE_OR_MORE","name":"Больше четырёх"}],"durations":[{"id":"ONE_WEEK_OR_LESS","name":"Меньше недели"},{"id":"TWO_WEEKS","name":"Две недели"},{"id":"THREE_WEEKS","name":"Больше двух недель"},{"id":"FOUR_WEEKS_OR_MORE","name":"Больше месяца"}],"locations":[{"id":"1","name":"По телефону"},{"id":"2","name":"По видеосвязи"},{"id":"3","name":"В офисе"}],"jobConditions":[{"id":"1","name":"Зарплата"},{"id":"2","name":"Описание обязанностей"},{"id":"3","name":"Требуемый опыт"},{"id":"4","name":"Соцпакет"},{"id":"5","name":"Описание условий работы"},{"id":"6","name":"Расположение офиса"}]},"myInterviewReviews":{"paging":{"found":0,"hasNextPage":false,"page":0,"pages":0,"perPage":20},"isLoading":false,"reviews":[]},"notificationReviewData":{},"interviewReviewWizardData":{"negotiationTopicId":null,"vacancyId":null,"employerName":null,"position":null,"areaId":null},"complainDictionaries":{"reasons":[]},"renderHeadless":false,"complainSuccess":false,"isRedesignExp":false,"proxiedSiteRoot":"","topicAlreadyReviewed":false,"reviewsAreHidden":null,"router":{"location":{"pathname":"/employer_reviews/proxy_components/small_widget","search":"?employerId=5609139","hash":"","key":"nsplam","query":{"employerId":"5609139"}},"action":"POP"}}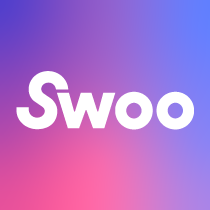 Санкт-Петербург
swooapp.com
Сферы деятельности
Информационные технологии, системная интеграция, интернет
About us
Swoo is a fast-growing international FinTech company, whose core product is a digital wallet. The Swoo app organizes the chaos in the customers' daily lives and brings the magic of modern technology into daily shopping and crypto management. 
Swoo in numbers:
4 countries 

MAU: 100 000+ users

1 500 000+ cards digitized

80 employees on the team 
What's the app
Users can choose which features to explore: buy crypto coins or keep loyalty cards handy, or try both. 
Unlike old-fashioned wallets, Swoo lets users add an unlimited number of cards from favorite stores, always get discounts at checkout with smartphones, and share cards with friends. 
What's more: Swoo helps users easily tap into crypto and buy popular coins in a heartbeat. We are focused on a user-friendly interface and in-app crypto education to simplify the dive. Just like that, crypto gets easy.   
Our plans
Swoo is committed to become a unicorn company with 100 million active users worldwide driving mass crypto adoption. Swoo has already closed our first private equity round in 2021 with international investors. The next round of institutional investments is planned to be attracted at the end of 2022.
We're looking for capable individuals to join our team – people who can help us develop our product to achieve our ambitious goals. We need people who are independent, proactive, attentive to detail, and who love a challenge.
Joining our team is magically simple. Look over the available positions and send us your CV.
If you have questions about working for Swoo, write to us at hr@swooapp.com
{"advantages":[{"id":"1","name":"Своевременная оплата труда"},{"id":"2","name":"Удобное расположение работы"},{"id":"3","name":"Удаленная работа"},{"id":"4","name":"Наличие кухни, места для обеда"},{"id":"5","name":"Медицинское страхование"},{"id":"6","name":"Оплата больничного"},{"id":"7","name":"Гибкий рабочий график"},{"id":"8","name":"Компенсация питания"},{"id":"9","name":"Оплата транспортных расходов"},{"id":"10","name":"Корпоративный транспорт"},{"id":"11","name":"Профессиональное обучение"},{"id":"12","name":"Место для парковки"},{"id":"13","name":"Оплата мобильной связи"},{"id":"14","name":"Система наставничества"},{"id":"15","name":"Корпоративные мероприятия"}],"datetime":"","trl":{"RU":{"employerReviews.bigWidget.title":"Отзывы о компании","employerReviews.bigWidget.pinReviewsAction":"Закрепить отзывы","employerReviews.bigWidget.pinReviewsComment":"Закрепите 3 лучших отзыва — соискатели будут видеть их в первую очередь","employerReviews.bigWidget.rummorsTitle":"Что говорят сотрудники","employerReviews.review.noTitle":"Отзыв сотрудника","employerReviews.benefits.modal.title":"Преимущества и льготы в компании","employerReviews.benefits.modal.subTitle":"На основании","employerReviews.benefits.modal.subTitle.one":"отзыва","employerReviews.benefits.modal.subTitle.many":"отзывов","employerReviews.loginCard.description":"Войдите, чтобы увидеть все отзывы","employerReviews.loginCard.action":"Войти","employerReviews.reviewModal.target.currentEmployer":"Работаю в компании","employerReviews.reviewModal.target.previousEmployer":"Работал в компании","employerReviews.reviewModal.target.interview":"Был на собеседовании","employerReviews.reviewModal.workInCompany":"Продолжительность работы {0}","employerReviews.reviewModal.section.pros":"Что вам нравится в работодателе","employerReviews.reviewModal.section.cons":"Что можно было бы улучшить","employerReviews.reviewModal.ratings.career":"Возможности роста","employerReviews.reviewModal.ratings.management":"Руководство","employerReviews.reviewModal.ratings.restRecovery":"Условия для отдыха","employerReviews.reviewModal.ratings.salary":"Уровень дохода","employerReviews.reviewModal.ratings.team":"Коллектив","employerReviews.reviewModal.ratings.workPlace":"Условия труда","employerReviews.review.deleteReview":"Удалить отзыв","month.1":"Январь","month.2":"Февраль","month.3":"Март","month.4":"Апрель","month.5":"Май","month.6":"Июнь","month.7":"Июль","month.8":"Август","month.9":"Сентябрь","month.10":"Октябрь","month.11":"Ноябрь","month.12":"Декабрь","calendar.genitive.month.0":"января","calendar.genitive.month.1":"февраля","calendar.genitive.month.2":"марта","calendar.genitive.month.3":"апреля","calendar.genitive.month.4":"мая","calendar.genitive.month.5":"июня","calendar.genitive.month.6":"июля","calendar.genitive.month.7":"августа","calendar.genitive.month.8":"сентября","calendar.genitive.month.9":"октября","calendar.genitive.month.10":"ноября","calendar.genitive.month.11":"декабря","employerReviews.reviewModal.section.feedback":"Ответ работодателя","employerReviews.bigWidget.allReviews":"Все {0} на Dream Job","employerReviews.reviewsCount.one":"отзыв","employerReviews.reviewsCount.some":"отзыва","employerReviews.reviewsCount.many":"отзывов","employerReviews.benefits.card.title":"Преимущества и льготы","employerReviews.bigWidget.leaveReviewComment":"Ваши отзывы помогают людям принимать взвешенные карьерные решения","employerReviews.bigWidget.leaveReviewAction":"Оставить отзыв","employerReviews.bigWidget.verifyPhone":"Подтвердить номер","employerReviews.cantReview.loginAsApplicant":"Войдите как соискатель, чтобы оставить отзыв","employerReviews.cantReview.alreadyReviewed":"Можно оставить только один отзыв. После модерации он появится на сайте Dreamjob.ru и будет доступен другим соискателям.","employerReviews.cantReview.verifyPhone":"Чтобы оставить отзыв о работодателе подтвердите ваш аккаунт с помощью номера телефона","employerReviews.cantReview.alreadyReviewedInterview":"Вы уже оставили отзыв. После модерации он появится на сайте Dreamjob.ru и будет доступен другим соискателям.","employerReviews.reviewSelectorModal.leaveAnonReview":"Оставить анонимный отзыв","employerReviews.reviewSelectorModal.dontSendPersonalData":"Мы не передаем персональную информацию третьим лицами.","employerReviews.reviewSelectorModal.allReviewsIsAnon":"Все отзывы абсолютно анонимны","employerReviews.reviewSelectorModal.aboutCompany":"О работе в компании","employerReviews.reviewSelectorModal.aboutInterview":"О собеседовании","employerReviews.freeWidget.employerDontWork":"Работодатель пока не работает с отзывами сотрудников на hh.ru","employerReviews.bigWidget.noReviews":"О данном работодателе пока нет отзывов или он скрыл их на нашем сайте","employerReviews.bigWidget.ratingComment":"Оценка Dream Job","employerReviews.bigWidget.recommendationComment":"Рекомендуют работодателя","employerReviews.bigWidget.recommendationCommentShort":"Рекомендуют","employerReviews.bigWidget.hiddenReview.noReviews":"Здесь пока нет отзывов, но ваш может стать первым","employerReviews.bigWidget.hiddenReview.dreamjobText":"Работодатель скрыл отзывы в нашем приложении, но вы можете посмотреть их на сайте Dream Job","employerReviews.bigWidget.hiddenReview.dreamjobLink":"Работодатель скрыл отзывы в нашем приложении, но вы можете посмотреть их на сайте","employerReviews.ratingSummary.fine":"отлично","employerReviews.ratingSummary.veryGood":"очень хорошо","employerReviews.ratingSummary.good":"хорошо","employerReviews.ratingSummary.satisfactorily":"удовлетворительно","employerReviews.ratingSummary.unsatisfactorily":"неудовлетворительно","employerReviews.wizard.confirmClose":"Закрыть окно?\nВнесенные изменения не сохранятся.","employerReviews.complainWizard.reason.title":"Причина жалобы","employerReviews.complainWizard.reason.titleXS":"Укажите причину, по которой вы хотите удалить отзыв","employerReviews.complainWizard.text.placeholder":"Опишите ситуацию","employerReviews.complainWizard.callPolice.title":"Обратитесь в контролирующие органы","employerReviews.complainWizard.callPolice.description":"При нарушении трудовых прав вы можете обратиться в контролирующие или надзорные органы. Мы подготовили для вас статью на эту тему","employerReviews.complainWizard.callPolice.action":"Читать статью","employerReviews.complainWizard.finish.title":"Спасибо за помощь","employerReviews.complainWizard.finish.description":"Теперь мы знаем, что с компанией что-то не так, и уже работаем над этим","employerReviews.complainWizard.finish.description.vacancy":"Теперь мы знаем, что с вакансией что-то не так, и уже работаем над этим","employerReviews.complainWizard.finish.action":"Закрыть","employerReviews.wizard.next":"Продолжить","employerReviews.wizard.prev":"Назад","employerReviews.wizard.cancel":"Отменить","employerReviews.wizard.submit":"Отправить отзыв","employerReviews.wizard.about.title":"Анонимный отзыв","employerReviews.interviewWizard.components.title":"Что включал в себя процесс отбора в компанию?","employerReviews.interviewWizard.questions.title":"Ответьте на вопросы","employerReviews.interviewWizard.nonMatchedJobConditions.title":"Что не соответствовало описанию вакансии?","employerReviews.wizard.rate.title":"Оцените работодателя","employerReviews.interviewWizard.review.title":"Что было на собеседовании?","employerReviews.interviewWizard.finish.title":"Спасибо за отзыв!","employerReviews.interviewWizard.finish.description":"Информацию о том, что было на собеседовании, увидит только работодатель","employerReviews.wizard.ok":"Понятно","employerReviews.wizard.about.city":"Город","employerReviews.wizard.about.city.error":"Укажите город проживания","rb.edit.area":"Город проживания","treeselector.save":"Выбрать","treeselector.cancel":"Отменить","treeselector.quicksearch":"Быстрый поиск","treeselector.notFound":"Совпадений не найдено","employerReviews.wizard.about.company":"Компания","employerReviews.wizard.about.company.error":"Укажите название компании","employerReviews.wizard.about.company.error.cantReview":"Вы уже оставили отзыв на эту компанию","employerReviews.wizard.about.position":"Должность","employerReviews.wizard.about.position.error":"Укажите должность","employerReviews.interviewWizard.about.gotOffer":"Предложили ли вам работу после собеседования?","employerReviews.interviewWizard.about.gotOffer.error":"Выберите ответ","employerReviews.interviewWizard.about.gotOffer.yes":"Да, есть приглашение","employerReviews.interviewWizard.about.gotOffer.no":"Нет, не предлагали","employerReviews.interviewWizard.general.error":"Выберите ответ","employerReviews.interviewWizard.questions.complexity":"Как вы оцениваете уровень сложности собеседования?","employerReviews.interviewWizard.questions.stagesCount":"Сколько этапов собеседования на должность?","employerReviews.interviewWizard.questions.duration":"Сколько недель длился процесс отбора c момента отклика на вакансию?","employerReviews.interviewWizard.questions.isMatch":"Условия работы соответствуют описанию вакансии?","employerReviews.interviewWizard.questions.isMatch.yes":"Соответствуют","employerReviews.interviewWizard.questions.isMatch.no":"Не соответствуют","employerReviews.interviewWizard.questions.locations":"Где проходило собеседование?","employerReviews.interviewWizard.questions.locations.hint":"Можно выбрать несколько вариантов","employerReviews.wizard.rate.error":"Оцените работодателя по критериям","employerReviews.interviewWizard.rate.feedbackSpeed":"Скорость обратной связи от работодателя","employerReviews.interviewWizard.rate.hrCompetition":"Профессионализм HR / представителя компании","employerReviews.interviewWizard.rate.perceiving":"Атмосфера на собеседовании","employerReviews.interviewWizard.review.questions":"О чём вас спрашивали?","employerReviews.interviewWizard.review.impression":"Поделитесь впечатлением от процесса","employerReviews.interviewWizard.review.questions.hint":"Оцените вопросы, которые вам задавали на интервью.что бы вы посоветовали улучшить?","employerReviews.interviewWizard.review.impression.hint":"Понравилось ли вам в целом, как проходили этапы отбора в компанию?","employerReviews.wizard.review.title":"Напишите отзыв","employerReviews.wizard.advantages.title":"Какие льготы и удобства есть у работодателя?","employerReviews.wizard.recommend.title":"Вы бы порекомендовали работодателя своему другу?","employerReviews.wizard.finish.title":"Спасибо за отзыв!","employerReviews.wizard.finish.description":"После модерации он появится на Dreamjob.ru и будет доступен другим соискателям","employerReviews.wizard.finish.action":"Хорошо","employerReviews.wizard.about.duration":"Как долго работали?","employerReviews.wizard.about.duration.error":"Укажите как долго работали","employerReviews.wizard.about.duration.lessThanYear":"Меньше года","employerReviews.wizard.about.duration.oneToTwoYears":"1-2 года","employerReviews.wizard.about.duration.threeToFiveYears":"3-5 лет","employerReviews.wizard.about.duration.fiveToTenYears":"5-10 лет","employerReviews.wizard.about.duration.moreThanTenYears":"Больше 10 лет","employerReviews.wizard.about.target":"Я оцениваю","employerReviews.wizard.about.target.error":"Выберите кого вы оцениваете","employerReviews.wizard.about.target.currentEmployer":"Текущее место работы","employerReviews.wizard.about.target.previousEmployer":"Прошлое место работы","employerReviews.wizard.advantages.error":"Выберите льготы и удобства","employerReviews.wizard.rate.compensation.placeholder":"Доход после вычета налога (руб./месяц)","employerReviews.wizard.rate.workPlace.title":"Условия труда","employerReviews.wizard.rate.workPlace.description":"Оцените удобство и условия рабочего места, наличие необходимого оборудования, месторасположение","employerReviews.wizard.rate.team.title":"Коллектив","employerReviews.wizard.rate.team.description":"Оцените атмосферу в коллективе: сплоченность, поддержка, общение вне работы","employerReviews.wizard.rate.managment.title":"Руководство","employerReviews.wizard.rate.managment.description":"Оцените отношение руководства к сотрудникам, уровень компетентности, возможности решения рабочих проблем","employerReviews.wizard.rate.career.title":"Возможности роста","employerReviews.wizard.rate.career.description":"Оцените перспективы для роста и развития, возможности перехода в другой отдел и обучения в компании","employerReviews.wizard.rate.restRecovery.title":"Условия для отдыха","employerReviews.wizard.rate.restRecovery.description":"Оцените наличие и уровень соц.пакета и ДМС, оплату питания, продолжительность рабочего дня и перерывов","employerReviews.wizard.rate.salary.title":"Уровень дохода","employerReviews.wizard.rate.salary.description":"Оцените размер оплаты труда и премии","employerReviews.wizard.recommend.like":"Да","employerReviews.wizard.recommend.dislike":"Нет","employerReviews.wizard.recommend.error":"Оставьте свою рекомендацию","employerReviews.wizard.review.cons":"Что можно было бы улучшить","employerReviews.wizard.review.cons.placeholder":"Например: коммуникация между сотрудниками","employerReviews.wizard.review.cons.error":"Поле должно содержать не менее 20 символов. Пожалуйста, дополните ваш отзыв","employerReviews.wizard.review.points":"— Избегайте категоричных и предвзятых оценок: у каждой компании есть как плюсы, так и зоны для улучшений.\n— Не используйте нецензурную лексику.\n— Не переходите на личности и не разглашайте персональные данные.","employerReviews.wizard.review.pros":"Что вам нравится в работодателе","employerReviews.wizard.review.pros.placeholder":"Например: свобода в выборе рабочего графика, близость к дому и т. д.","employerReviews.wizard.review.pros.error":"Поле должно содержать не менее 20 символов. Пожалуйста, дополните ваш отзыв","employerReviews.deleteReviewModal.title":"Укажите причину, по которой вы хотите удалить отзыв","employerReviews.deleteReviewModal.reason.changedOpinion":"Поменялось мнение о работодателе","employerReviews.deleteReviewModal.reason.employerRequested":"Работодатель попросил удалить отзыв","employerReviews.deleteReviewModal.reason.noLongerRelevant":"Отзыв потерял актуальность","employerReviews.deleteReviewModal.reason.byMistake":"Отзыв был оставлен по ошибке","employerReviews.deleteReviewModal.reason.other":"Другое","employerReviews.deleteReviewModal.other.title":"Причина удаления","employerReviews.deleteReviewModal.other.placeholder":"Например: написал отзыв на эмоциях…","employerReviews.deleteReviewModal.actions.delete":"Удалить","employerReviews.deleteReviewModal.actions.cancel":"Отменить","employerReviews.editReviewModal.title":"Редактирование отзыва","employerReviews.editReviewModal.actions.delete":"Удалить","employerReviews.editReviewModal.actions.save":"Опубликовать","employerReviews.editReviewModal.actions.cancel":"Отменить","employerReviews.abstract.submitError":"Произошла ошибка. Попробуйте повторить операцию позднее","employerReviews.editReviewModal.description.title":"Пожалуйста, исправьте замечания и опубликуйте отзыв повторно","employerReviews.editReviewModal.hint":"Напишите нам, если вы считаете, что ваш отзыв не нарушает ни одно из перечисленных правил или хотите задать вопрос касательно процесса модерации","employerReviews.editReviewModal.hint.show":"Подробнее","employerReviews.editReviewModal.hint.close":"Закрыть","page.4xx.pageTitle":"Ошибка","page.403.pageTitle":"Ошибка 403","page.404.pageTitle":"Ошибка 404","page.4xx.description":"Что-то пошло не так.","page.403.description":"У вас нет доступа к этой странице.","page.404.description":"Что-то пошло не так. Возможно, вы ошиблись, набирая адрес в строке браузера — так бывает. Если вы уверены, что адрес набран верно, то страница, скорее всего, была удалена и ее больше нет.","page.4xx.solution":"Смело обращайтесь за помощью в {0}, сообщив нам код ошибки: {1}, или перейдите на {2}.","page.403.solution":"Но не отчаивайтесь! Попробуйте перейти на {0} или обратитесь за помощью в {1}.","page.404.solution":"Но не отчаивайтесь! Смело обращайтесь за помощью в {0} или перейдите на {1}.","page.4xx.support":"сообщество поддержки","page.4xx.main":"главную страницу","page.403.login":"страницу авторизации"}},"langs":["RU"],"features":{"sentry_logging":true,"sentry_request_queue_limit":null,"sentry_js_config":null},"experiments":{"enabled":{},"checked":[]},"fetchingData":false,"pageError":null,"request":{"protocol":"https","host":"172.18.16.17:2680","url":"/employer_reviews/proxy_components/big_widget?employerId=5609139","id":"166465534966865587f154f17e0fb50d","xsrfToken":"1de7669a35596983f198be3343ec3450","pageName":"BigWidget"},"config":{"staticHost":"https://employer-reviews-front.hh.ru/static","hhcdnHost":"https://hhcdn.ru","build":"1.0.83","sentryDSN":"https://d9af9242efed432e987ffae32d179ef4@sentry.hh.ru/616"},"analyticsParams":{"hhtmSource":"BigWidget","hhtmFrom":"","hhtmSourceLabel":"","hhtmFromLabel":""},"userType":"anonymous","isWebView":false,"isProxiedComponent":true,"employerReviews":null,"employerId":"5609139","employerNameMap":{"5609139":"Swoo"},"employerLogoUrl":"/employer-logo/3938508.png","vacancyId":null,"proxyComponentId":"employerReviewsBig","xhhPageName":"employer","areaTree":[],"siteId":"7","backurl":"/","showForceReloadWarning":false,"reviewPossibility":{"employer":{"canReview":true},"interview":{"canReview":false}},"reviewsSettings":false,"hasVerifiedPhone":false,"reviewsVisibilitySettings":false,"canEditVisibilitySettings":false,"employersToReview":[],"interviewsToReview":[],"disabledReduxSpaMiddlware":true,"myReviews":{"paging":{"found":0,"hasNextPage":false,"page":0,"pages":0,"perPage":20},"isLoading":false,"reviews":[]},"initialOpenedReviewId":null,"interviewDictionaries":{"components":[{"id":"1","name":"Рекомендации с прошлой работы"},{"id":"2","name":"Обсуждение опыта работы"},{"id":"3","name":"Оценка профессиональных навыков"},{"id":"4","name":"Оценка навыков презентации"},{"id":"5","name":"Психологический тест"},{"id":"6","name":"Уровень владения иностранным языком"},{"id":"7","name":"Проверка службой безопасности"}],"complexities":[{"id":"1","name":"Легко"},{"id":"2","name":"Нормально"},{"id":"3","name":"Сложно"}],"stagesCounts":[{"id":"ONE","name":"Один"},{"id":"TWO","name":"Два"},{"id":"THREE","name":"Три"},{"id":"FOUR","name":"Четыре"},{"id":"FIVE_OR_MORE","name":"Больше четырёх"}],"durations":[{"id":"ONE_WEEK_OR_LESS","name":"Меньше недели"},{"id":"TWO_WEEKS","name":"Две недели"},{"id":"THREE_WEEKS","name":"Больше двух недель"},{"id":"FOUR_WEEKS_OR_MORE","name":"Больше месяца"}],"locations":[{"id":"1","name":"По телефону"},{"id":"2","name":"По видеосвязи"},{"id":"3","name":"В офисе"}],"jobConditions":[{"id":"1","name":"Зарплата"},{"id":"2","name":"Описание обязанностей"},{"id":"3","name":"Требуемый опыт"},{"id":"4","name":"Соцпакет"},{"id":"5","name":"Описание условий работы"},{"id":"6","name":"Расположение офиса"}]},"myInterviewReviews":{"paging":{"found":0,"hasNextPage":false,"page":0,"pages":0,"perPage":20},"isLoading":false,"reviews":[]},"notificationReviewData":{},"interviewReviewWizardData":{"negotiationTopicId":null,"vacancyId":null,"employerName":null,"position":null,"areaId":null},"complainDictionaries":{"reasons":[]},"renderHeadless":false,"complainSuccess":false,"isRedesignExp":false,"proxiedSiteRoot":"","topicAlreadyReviewed":false,"reviewsAreHidden":null,"router":{"location":{"pathname":"/employer_reviews/proxy_components/big_widget","search":"?employerId=5609139","hash":"","key":"wz1kgn","query":{"employerId":"5609139"}},"action":"POP"}}
Отзывы о компании
О данном работодателе пока нет отзывов или он скрыл их на нашем сайте
Ваши отзывы помогают людям принимать взвешенные карьерные решения